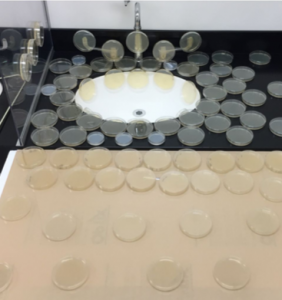 "Our study demonstrates that bacterial spread from drainpipes to patients occurs via a staged mode of transmission," says principal investigator Amy Mathers, MD, Associate Professor of Medicine and Pathology, Division of Infectious Diseases and International Health.
Bacteria spread to patients in two steps. First, the bacteria colonize the elbows (P-traps) of the drain pipes connected to the sink. From there, the bacteria grow upwards toward the sink strainers at the rate of roughly one inch per day. This it takes only a week for bacteria to reach the sink strainers. From there, bacteria splatter out of the sink during routine use, and even onto the counters surrounding the sinks. From there they can be easily transmitted to patients.
Moreover, bacterial can make their way from one sink to another via the wastewater plumbing that connects them.
See all the details in our latest publication, "Spread from the Sink to the Patient: in situ Study Using Green Fluorescent Protein (GFP) Expressing- Escherichia coli to Model Bacterial Dispersion from Hand Washing Sink Trap Reservoirs" in Applied and Environmental Microbiology.
A partial list of worldwide press on this seminal piece of research